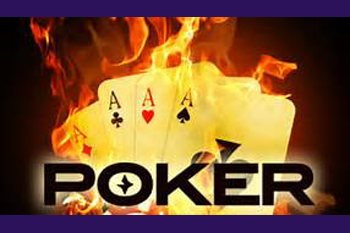 RKA GUN GALLERY PRESENTS…
POKER NIGHT – 5 CARD STUD
PARTICIPANTS CAN USE ANY HANDGUN THEY ARE COMFORTABLE WITH; .380 ACP AND LARGER. (NO RIMFIRE). NO SCOPE, RED DOT OR PISTOL MOUNTED LASERS ARE ALLOWED. NO RESTS CAN BE USED. ROUNDS MUST BE WITHIN THE CARD OR CLEARLY BREAK THE LINE OF THE CARD TO COUNT. NO OUTSIDE RELOAD AMMO. ALL RKA GUN GALLERY RANGE RULES APPLY.
COST: $20.00 PER SHOOTER
TARGETS WILL PLACED AT 20 FEET. HANDICAP MAY APPLY FOR SOME PLAYERS. (SEE RKA STAFF)
EACH HAND WILL BE SCORED AS SUCH:
ROYAL FLUSH- (25pts)
STRAIGHT FLUSH (20pts)
FOUR OF A KIND (15pts)
FULL HOUSE(12pts)
FLUSH (10pts)
STRAIGHT (8pts)
THREE OF A KIND (6pts)
TWO PAIR(4pts)
ONE PAIR (2pts)
HIGH CARD(1pt)
BRACKET STYLE OR ROUND ROBIN STYLE OF PLAY, DEPENDING ON NUMBER OF PLAYERS
SHOOTERS WILL BE RANDOMLY SELECTED BY THE RSO TO SEE WHO WILL BE MATCHED TOGETHER FOR THE FIRST ROUND. THE WINNERS FROM EACH ROUND WILL FACE OFF AND THE LOSERS FROM EACH ROUND WILL FACE OFF.
5 (CONSECUTIVE) SHOTS PER PLAYER, PER HAND. ALL SHOTS IN YOUR COLOR WILL COUNT. SHOOTERS CAN ONLY LOAD 5 ROUNDS FOR EACH HAND.
PLAYERS WILL DECIDED AMONG THEMSELVES WHICH COLOR EACH PLAY WILL SHOOT.
A PLAYER WHOM SHOOTS FIRST ON HAND ONE WILL THEN SHOOT SECOND ON HAND TWO.
JOKERS ARE WILD
HIGHEST TOTAL POINTS FOR TWO HANDS, WINS
IF A PLAYER SHOOTS THE OPPONENTS COLOR, THE OPPONENT CAN OPT TO USE THAT CARD IN THEIR HAND.
IF A TIE OCCURS AT THE END OF BOTH HANDS, A SINGLE SHOT SHOOT OUT WILL OCCUR (PLAYERS WILL PICK A COLOR CARD FROM ONE OF THE TWO MIDDLE CARDS, CLOSEST TO THE CENTER WINS)
RKA INDICATOR FLAGS MUST BE PLACED IN UNLOADED FIREARMS BEFORE PLAYERS MOVE TO NEW STALL FOR NEXT ROUND.
PRIZES
1ST -100RDS OF 9MM AMMO
2ND -50 RDS OF 9MM AMMO
3RD – FREE ONE HOUR RANGE PASS
FOR ROUND ROBIN PLAY
ALL SIGNED UP SHOOTERS WILL SELECT A PLAYING CARD (THIS WILL DEPEND ON HOW MANY SHOOTERS THERE ARE FOR THE GAME)
THE PLAYING CARD WILL DECIDE WHAT NUMBER EACH SHOOTER WILL HAVE.
THE RSO WILL TELL THE SHOOTERS WHO IS PAIRED UP WITH WHOM. ALSO, WHAT STALL THEY WILL OCCUPY.
EACH SHOOTER WILL UNLOAD HIS/HER FIREARM, PLACE IT IN THE STALL ON THE TABLE, INSTALL THE RKA INDICATOR FLAG INTO THEIR FIREARM, THEN STEP BACK FROM THE STALL.
WHEN ALL PLAYERS ARE READY, THE RSO WILL GIVE THE COMMAND TO BEGIN SHOOTING THAT ROUND.
WHEN PLAYERS ARE FINISHED SHOOTING THAT ROUND, THE INDICATOR FLAG WILL BE REINSERTED INTO THE FIREARM (AND THE SCORES HAVE BEEN WRITTEN ON THEIR SHEETS), THE PLAYERS WILL STEP BACK FROM THE STALL.
WHEN ALL PLAYERS HAVE FINISHED THEIR 1ST ROUND, THE RSO WILL ASSIGN NEW SHOOTING PARTNERS AND STALLS.
SHOOTERS WILL MOVE ONLY WHEN GIVEN THE COMMAND BY THE RSO. FIREARMS ARE TO BE UNLOADED AND THE INDICATOR FLAGS INSERTED. FIREARMS ARE TO BE CARRIED WITH THE MUZZLE POINTED DOWNWARD.
WHEN ALL PLAYERS HAVE MOVED TO THEIR NEW ASSIGNED STALL AND HAVE STEPPED BACK, THE RSO WILL GIVE THE COMMAND TO BEGIN SHOOTING THE NEXT ROUND.
THIS WILL CONTINUE UNTIL ROUND ROBIN IS COMPLETE.
Ante up and shoot you best poker hand!
Handgun only (.380 or larger) with open sights.
5 shots at 20 feet; one chance per card.
Bracket or Round robin scoring depending on participants
$20.00 to play with the chance of winner prizes.
Dates will be announced on Facebook.